More ways to give
---
Maximize your giving to rescue more kids and help them stay free
Estate and asset giving
______
You can establish a legacy of rescue and empower freedom for years to come.
WILLS
Designating a bequest to Destiny Rescue in your will or trust is a simple way to continue to rescue kids and help them stay free even after your lifetime.
Here is example testamentary language to provide your attorney for a bequest: 
"I give to Destiny Rescue, USA, EIN 26-2467690, an organization located in Fort Wayne, Indiana, or its successor organization, the greater of _____ % of my estate or $_______ to be used for its general support and charitable purposes without restriction."
If you would prefer to bequeath a gift for a specific project, location or use, please contact our Strategic Gift Planning Department.
BENEFICIARY DESIGNATIONS
You can designate Destiny Rescue as a beneficiary of your life insurance policy or through your IRA / retirement plan. Please provide this information to the holder of your policy or plan: Destiny Rescue USA, EIN: 26-2467690, 10339 Dawson's Creek Blvd. Suite C, Fort Wayne, IN 46825.
Donate with confidence
Over the last three years, 81.8% of every dollar we spent was used for programs that benefit the children we defend.
Destiny Rescue is recognized by Guidestar, Charity Navigator and the Better Business Bureau for our commitment to transparency, accountability and financial integrity.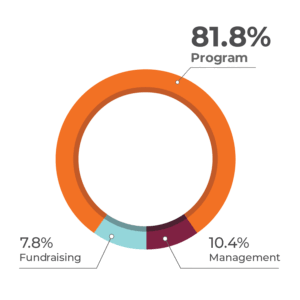 We are grateful for your generosity and promise to use your donation in the most effective way possible. All donations designated for specific funds will be applied to those projects and to administering the gifts. At least 80 percent of your designated gift will go to programs that defend kids. Gifts that cannot be used for a particular project, due to over or under-funding, will be directed to Destiny Rescue's most urgent needs. Contributions are solicited with the understanding that Destiny Rescue has control over the use of all donated funds.
---
2022 Impact Report
Discover how funds are stewarded to maximize rescue and freedom for kids around the world.
VIEW