Our biggest case to date
Of all our project nations, The Philippines yields Destiny Rescue's most prolific raid and rescue results. Operation Phantom brings together Government Special Forces, Anti-Human Trafficking Police and Destiny Rescue agents in the country's largest, most dangerous and daring operation to date.
A compound, operated and defended by an armed human trafficking cartel, is holding up to 150 women and children against their will. Here, they're sold for sex in squalid conditions.
Destiny Rescue agents have infiltrated the cartel, built the case and must now join the operation to bring this establishment down. Facing the prospect of a live-fire situation, agents reflect upon this new level of danger, all they must do to prepare to be in the line of fire and just how far they're prepared to go to rescue the precious young lives being held as sex slaves.
Raids fight trafficking from multiple angles
---
RESCUE
Efforts free victims of trafficking, our social workers help ensure each survivor is cared for as soon as the arrest is made, providing emotional support, dignity packs, transportation and assistance through the next steps.
ARRESTS
Dangerous traffickers are off the streets and are held accountable for their actions through the justice system. Our agents are familiar with laws to ensure evidence gathered creates a strong case.
LEADS
In some cases brave survivors rescued in previous raids have provided information leading to future operations. Also, evidence gathered from traffickers can provide leads for future cases.

You can help rescue the next child!
Donate with confidence
Over the last three years, 81.8% of every dollar we spent was used for programs that benefit the children we defend.
Destiny Rescue is recognized by Guidestar, Charity Navigator and the Better Business Bureau for our commitment to transparency, accountability and financial integrity.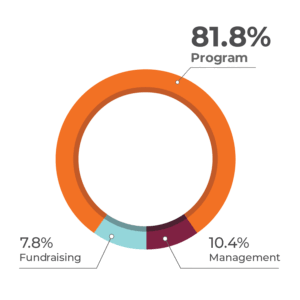 We are grateful for your generosity and promise to use your donation in the most effective way possible. All donations designated for specific funds will be applied to those projects and to administering the gifts. At least 80 percent of your designated gift will go to programs that defend kids. Gifts that cannot be used for a particular project, due to over or under-funding, will be directed to Destiny Rescue's most urgent needs. Contributions are solicited with the understanding that Destiny Rescue has control over the use of all donated funds.