"The thought of fighting against sex trafficking was always right on the edge of the radar of what
we knew we needed to go after but none of us really knew where to go or what first step to take." – Jeff Wenke, Lead Pastor at The Bridge Church
Your church can help raise awareness to fight against this global cause and help find and rescue those enslaved.
We have created a toolkit just for you.
---
Right now, a vulnerable child is being sold and abused. Without someone to protect them, they have no way out of this nightmare. You can change that for them! Fill out the form below to instantly download your Rescue Sunday Resource Toolkit and/or start a conversation with us about Rescue Sunday.
Donate with confidence
Over the last three years, 81.8% of every dollar we spent was used for programs that benefit the children we defend.
Destiny Rescue is recognized by Guidestar, Charity Navigator and the Better Business Bureau for our commitment to transparency, accountability and financial integrity.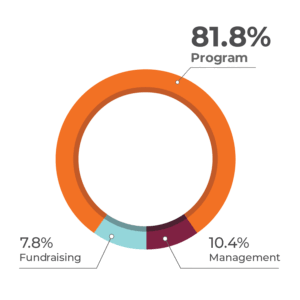 We are grateful for your generosity and promise to use your donation in the most effective way possible. All donations designated for specific funds will be applied to those projects and to administering the gifts. At least 80 percent of your designated gift will go to programs that defend kids. Gifts that cannot be used for a particular project, due to over or under-funding, will be directed to Destiny Rescue's most urgent needs. Contributions are solicited with the understanding that Destiny Rescue has control over the use of all donated funds.