Destiny Rescue has expanded rescue operations into a new country in Latin America. Location details will remain undisclosed indefinitely to protect both our staff and survivors in the country.
After a six-month exploration phase, where we met with country officials, other Christian non-profits and studied the state of exploitation in the region, our first rescue efforts commenced. In February, we rescued nine children from sexual exploitation and trafficking.
It felt great to get those first rescues on the board."
"It felt great to get those first rescues on the board as much of the process of starting a project from scratch is not necessarily enjoyable but necessary – such as building relationships and completing administrative and logistical tasks – all things that must be accomplished before we can really hit the ground running," a rescue agent on the ground said.
Most of the survivors were eight years old or younger, the youngest was only two years old. Their life circumstances made them extremely vulnerable and all had endured sexual abuse or exploitation.
The youngest children have entered the care of a like-minded rehabilitation shelter. Here they will receive practical and medical care, access to education as well as the opportunity to hear and see the Gospel of Christ through their caretakers.
Three older children were rescued from sex trafficking in an operation in step with law enforcement. Post rescue, we provided the survivors with food and transportation. Local authorities designate the survivor's next steps after rescue.
I'm excited and a little overwhelmed but looking forward to seeing how God moves and opens doors moving forward. There is a lot of work to be done here," our agent on the ground said.
Destiny Rescue rescues children from sex trafficking and exploitation in nine countries across three continents. This growing, global impact is only possible because of the relentless support of donors. You can join the fight against the injustice of sexual exploitation and bring rescue to children around the world.
Give Rescue
Your gift means freedom
Join an army of freedom fighters standing up against the injustice of child exploitation.
Investing with Integrity
Over the last three years, 80.4% of every dollar we spent was used for programs that benefit the children we defend.
Destiny Rescue is recognized by Guidestar, Charity Navigator and the Better Business Bureau for our commitment to transparency, accountability and financial integrity.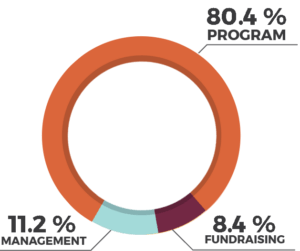 We are grateful for your generosity and promise to use your donation in the most effective way possible. All donations designated for specific funds will be applied to those projects and to administering the gifts. At least 80 percent of your designated gift will go to programs that defend kids. Gifts that cannot be used for a particular project, due to over or under-funding, will be directed to Destiny Rescue's most urgent needs. Contributions are solicited with the understanding that Destiny Rescue has control over the use of all donated funds.