It took extensive planning and skilled teamwork. On an unassuming February night, our teams and law enforcement executed four raids in immediate succession.
Preliminary:
Jan 2020 – Teams gathered intel on two pimps and two establishments. All four selling minors for sex. Cases are opened and the operations are underway.
Precursory briefings establish mission arrest targets:
Pimp selling individuals, including minors, for sex operating within a hotel. Rescue targets: Multiple teenagers. Youngest appears quite young. Exact ages unknown.
Street pimp selling minors for sex. Rescue targets: Four teenaged girls. All look well under 18. Exact ages unknown.
Two spas, both front businesses for the same-sex trafficking ring.
Rescue target: 15-year-old girl being sold and exploited along with other girls and women in the spas.
Operation Timeline:
5:30pm – Destiny Rescue agents arrive at police headquarters.
6:00pm – Officers, agents and social workers meet for a briefing on the four cases and the initiatives planned for the evening. Four separate operations need to happen flawlessly and in succession for the night to be a success.
7:12pm – After over an hour of preparation the team prays together and departs to their assigned locations.
7:19pm – Team dispatched to local restaurant. Rendezvous coordinated with pimp.
8:08pm – Team confirmed on premises. Support team on standby nearby and out of sight.
8:43pm – Undercover operatives in the restaurant give the signal. Support team, including both police and case workers, responded immediately.
Success:
1 arrest
4 minors rescued
ages confirmed to be 14-17 years old
8:57pm – Team en route to the next location, a hotel. Rendezvous coordinated with pimp. Their support team waits nearby to jump into action once the signal is given.
9:56pm – Team confirmed in the target area. On standby, support team in position.
9:57pm – Operative engages with pimp. The signal is given. Backup team responds. Caseworkers assist six survivors, four are confirmed as minors.
Success:
1 arrest
6 rescued
4 minors ages 13-17 years old, two adults ages 19 and 29
10:21pm – Teams gather for the final briefing.
10:32pm – Teams divide into A and B. Both en route to the final two spa locations.
10:53pm – Both teams confirmed in staging areas for simultaneous spa raids.
11:32pm – Undercover operative enters Spa Location A. 15-year-old rescue target is confirmed on premises.
11:39pm – Operative gives the 'go' signal to both teams. Teams in both locations move in. Officers facilitate arrest and security while caseworkers assist the survivors.
Success:
1 arrest
Location A: 9 rescued – 1 minor, age 15, and 8 other adult women – ages 20+
Location B: 12 young adults rescued – ages 18-24
IN TOTAL:
4 successful operations
31 girls and women rescued
3 alleged traffickers arrested
Give Rescue
Your gift means freedom
Join an army of freedom fighters standing up against the injustice of child exploitation.
Investing with Integrity
Over the last three years, 80.4% of every dollar we spent was used for programs that benefit the children we defend.
Destiny Rescue is recognized by Guidestar, Charity Navigator and the Better Business Bureau for our commitment to transparency, accountability and financial integrity.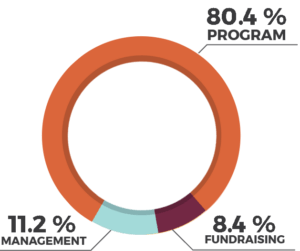 We are grateful for your generosity and promise to use your donation in the most effective way possible. All donations designated for specific funds will be applied to those projects and to administering the gifts. At least 80 percent of your designated gift will go to programs that defend kids. Gifts that cannot be used for a particular project, due to over or under-funding, will be directed to Destiny Rescue's most urgent needs. Contributions are solicited with the understanding that Destiny Rescue has control over the use of all donated funds.