Four girls were rescued together at a border crossing. None of them had any idea that the bus they were on was about to cross the border into a different country.
Kira* is a vibrant 19-year-old who loves to sing and dance. She helps her family by earning a little extra money performing in cultural dance programs. Earlier this year, after one of her performances she was approached by a man, Rabb*, claiming to own a dance company. They exchanged numbers and she shared about her love of dance and her family's financial struggles. Rabb told her he owned a dance bar only a few towns away where she could perform as a featured dancer and earn more in two days than what her father brought home each month. Rabb told her to share this news with her friends and he could hire them too.
This could be the break her family needed! Not wanting to keep such good fortune to herself she shared about the job opportunity with two of her friends. Both eagerly accepted the offer.
Rabb instructed all three of them to meet him at a bus station and together they would go to his dance bar. When the girls arrived at the station Rabb was there with another girl, 17-year-old Bri*. She appeared nervous but seemed to relax as they all came together. On the bus they learned she was also a dancer and had been approached by Rabb after dancing at a wedding only a few weeks ago. He had offered her the same job as them. All were excited to use their dancing to earn such an impressive wage!
Along the journey the bus pulled over and a few of our agents began to ask passengers questions. Our agent approached and asked the group of girls about their travel plans. They told her that they were dancers heading to a nearby town for a new job. Hearing this, our agents were immediately on alert. They informed the girls they were not headed towards that town but were in fact at a border crossing and about to enter a different country entirely.
Shocked and afraid, the glistening dream of their promising future shattered around them.
Reality crashed in, visibly rattling Kira and the others. All four had lied to their families, saying they were visiting friends. No one back home knew about Rabb or their actual travels that day. They slowly realized they were only a couple hundred feet away from vanishing out of the lives they knew and from families they loved, forever. What they didn't know is what this vanishing would have entailed. Some of the most dangerous brothel districts lie in cities across that border. They are places where young girls like themselves fetch high prices and would live out their days with no hope of escape. There was no stage, no dancing job and no money for their families, there would only be narrow hallways, dark rooms and the waiting line of 20+ customers per night.
Agents escorted the girls to the safety of our interview rooms in a nearby building and Rabb was arrested by local police. Families were contacted and all expressed gratitude that agents intervened and their daughters were safe. All four girls and their families were counseled on the risks and dangers of human trafficking. None of the families wished to press charges out of fear for their daughter's reputations and Rabb was released.
Kira, her two friends and Bri are safe because of the tireless work of our rescue agents at the border and the generosity of our supporters who keep them there. You can help kids like Kira know safety and freedom.
Give Rescue
Your gift means freedom
Join an army of freedom fighters standing up against the injustice of child exploitation.
Investing with Integrity
Over the last three years, 80.4% of every dollar we spent was used for programs that benefit the children we defend.
Destiny Rescue is recognized by Guidestar, Charity Navigator and the Better Business Bureau for our commitment to transparency, accountability and financial integrity.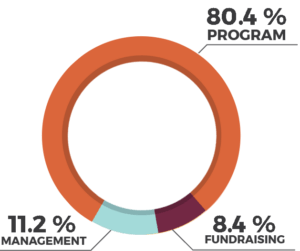 We are grateful for your generosity and promise to use your donation in the most effective way possible. All donations designated for specific funds will be applied to those projects and to administering the gifts. At least 80 percent of your designated gift will go to programs that defend kids. Gifts that cannot be used for a particular project, due to over or under-funding, will be directed to Destiny Rescue's most urgent needs. Contributions are solicited with the understanding that Destiny Rescue has control over the use of all donated funds.