Poverty is a dream-killer and an all-too-familiar part of the story for many girls that come through Destiny Rescue, including Noo*.
Noo's stepfather was the only one working when her mother was diagnosed and under treatment for cancer. To help out her family with expenses, Noo dropped out of school and started working as a waitress in a karaoke bar when she was 15. She knew the work was unsafe and didn't like it, but could not see any other option.
Posing as customers, two men from Destiny Rescue met Noo while she was working at the bar. The first thing they asked is if she wanted to go back to school. She said yes and was happy, but deep down she was scared because she did not know who these men were. Shortly after, Destiny Rescue began supporting her to go back to school and Noo stopped working at the karaoke bar.
Noo became involved with Destiny Rescue's Community Care program, but in July her mother passed away from cancer. Her father had passed away when she was very little and she had never had a close relationship with her newer stepfather. Noo only has one older sister and felt very alone after her mother passed away so she decided to live at our residential home.
Noo has a very sweet, gentle nature, likes to learn new things and is very smart. She has done well in school in the past and eager to go back to school next year. She is thankful for Destiny Rescue and everyone who has made it possible for her to continue her studies and have a chance at a better life. With their help, she no longer feels alone.
It is exciting to see Noo dreaming about her future as she starts to think about going to university to study English after graduating.
*This is the true story of a rescued child. To protect her identity, her name has been changed.
Written By Cheryl | Destiny Rescue Contributing Writer
Keep her free.
Join an army of Freedom Fighters restoring futures and dreams.
Keep her free.
Join an army of Freedom Fighters restoring futures and dreams.
Donate with confidence
Over the last three years, 81.8% of every dollar we spent was used for programs that benefit the children we defend.
Destiny Rescue is recognized by Guidestar, Charity Navigator and the Better Business Bureau for our commitment to transparency, accountability and financial integrity.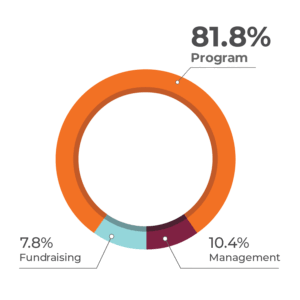 We are grateful for your generosity and promise to use your donation in the most effective way possible. All donations designated for specific funds will be applied to those projects and to administering the gifts. At least 80 percent of your designated gift will go to programs that defend kids. Gifts that cannot be used for a particular project, due to over or under-funding, will be directed to Destiny Rescue's most urgent needs. Contributions are solicited with the understanding that Destiny Rescue has control over the use of all donated funds.