In January, our home in Cambodia moved into a new space that has proved to be an improvement on many fronts both for survivors and the staff that care for them.
Our rescue agents in Cambodia spend countless hours scouring beer gardens and karaoke bars looking for exploited children. Through covert rescue, Khmer teenagers are taking the courageous first steps to begin their new future by either joining our residential home or community care program.
Destiny Rescue's residential home is a place in the country for survivors to stay full-time after rescue, typically for about six months. Our community care program allows for survivors to live with their families, or in some cases independently, after rescue. Caseworkers play a vital role in both programs, working alongside each survivor on their Freedom Plans which focus on achievable steps to help her stay free.
The daily routine of our residential home is not exclusive to those living in the dorm rooms upstairs. Survivors in community care within commuting distance attend our classes in the home and are just as much a part of the family.
Good morning
A typical day in the home begins around 8 am as staff arrive for a daily meeting about social work. Our reintegration team assembles around a large table on the first floor to discuss each survivor's progress and any other plans for the day.
During this time, the noise of teenage girls begins to drown out the surrounding din of traffic and tropical birds. Girls who live in our home trickle downstairs as those in community care arrive and eat breakfast together and prepare for their first set of classes.
On a typical day, girls taking English class pile into a truck and roll out for their class offsite. Learning English opens up exponentially more job opportunities for girls in this area known for  high tourism.
Learning from home
Lockdown responses to the global pandemic, Covid-19, have put classes on hold for weeks at a time during the past year in Cambodia. This has not halted the education of girls in our program though. "Since Covid shut things down for two weeks, I decided to take on the review of English lessons," Tami shared, Destiny Rescue project manager in Cambodia.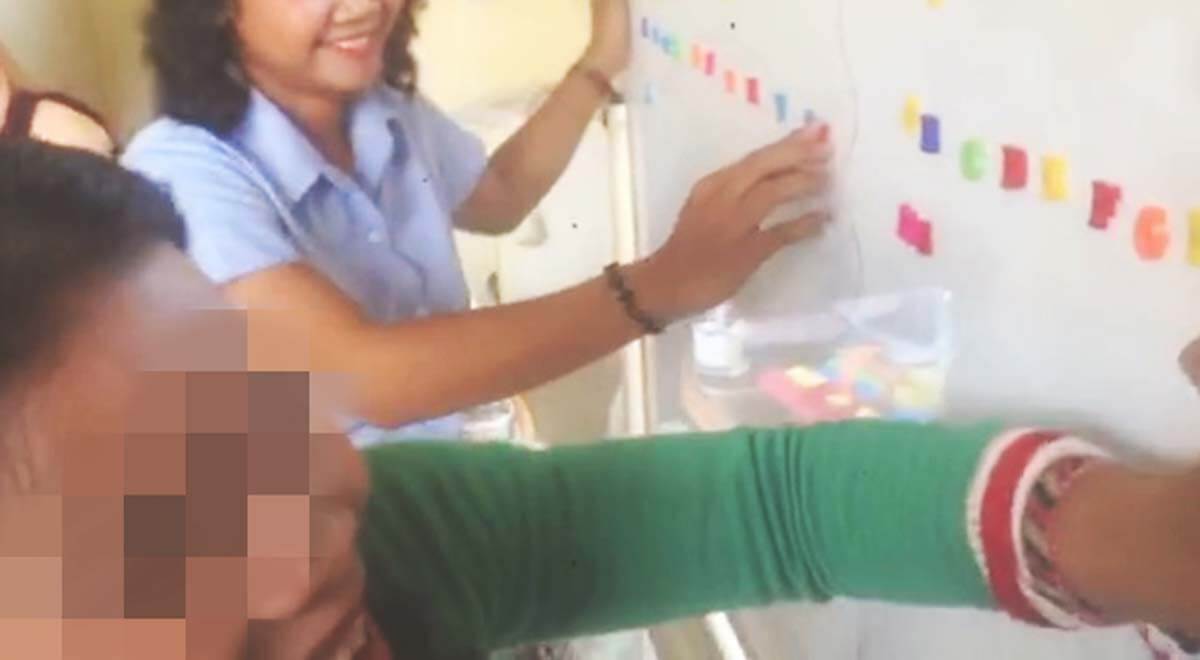 "I found some magnetic alphabetic letters for the whiteboard and bought two. We had competitions of who could put them in order, two against two. It was challenging, their hearts were racing, but they loved every second," she said.
Activities during lockdown are not just beneficial for a girl's continued education. Time in lockdown can be stressful for survivors. The upheaval of routine and large swaths of free time can be dangerous triggers for those dealing with trauma. Activities and time spent like this are key to a child's emotional health.
Vocational training
After English class, everyone assembles on the first floor of the home for salon training – one of our most popular vocational options here. The training setup is part of the common area on the first floor of the new home, allowing girls to tinker with their skills and practice easily in their free time.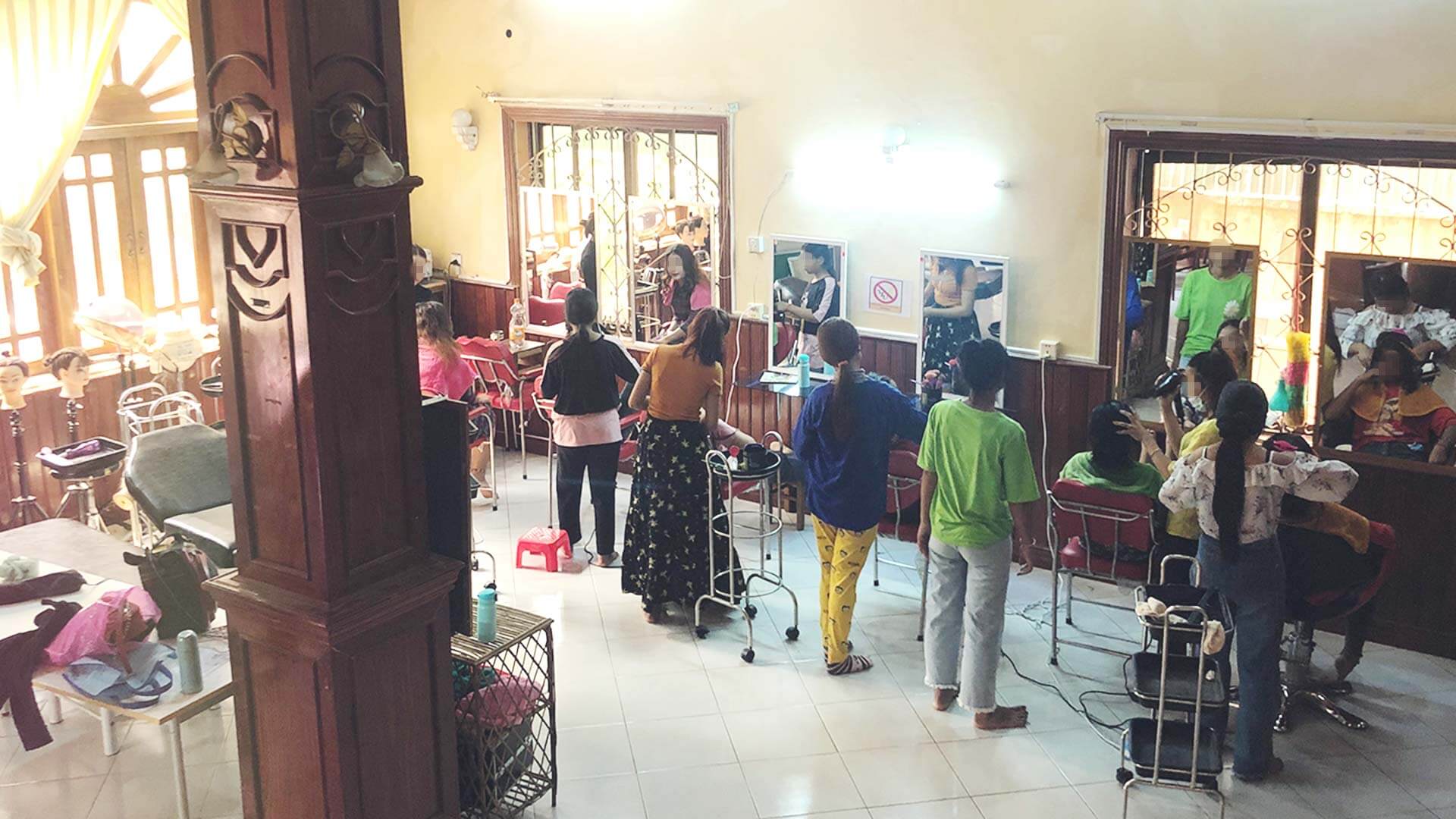 Many girls who have completed our program have gotten jobs in salons in the country. One girl attended and graduated from a renowned salon and fashion academy and a few have even opened their own salon.
Nuon, a salon student who shared her story with us last year, has recently reintegrated. Our staff helped her settle into an apartment of her own as she bravely stepped into this next chapter. She scored a job at a local salon and is doing well adjusting to independent life.
In addition to salon skills, survivors have the opportunity to gain training and experience in a variety of other fields. By collaborating with nearby businesses and training centers, our teams have opened doors for girls to study the career of their choice including graphic design, computer science, and culinary arts.
Recently, a survivor in our program was accepted into a prestigious baking school. Her teachers commended her efforts and shared with her caseworker that they appreciate how she pays attention and respects those around her. A driven young women, she plans to finish their one-year baking program and then use her skills to work and take night classes at university.
Foundations of literacy
Many survivors come from families struggling to survive in extreme poverty and had little access to education. Some have never even written their name in their native language, Khmer. Illiteracy can be a serious barrier to safe employment and put a survivor at risk for future exploitation.
In the late morning, a tutor arrives and works with certain girls on their Khmer literacy. Her instruction is customized to their current level and just a few lessons can significantly increase a survivor's confidence.
They feel valued that we care to help them and they really do want to learn given the opportunity."
In the kitchen together
As the heat of the day reaches its peak, everyone takes a break for lunch. Culturally, lunch is an hour-and-a-half ordeal and provides a time of rest and connection in addition to nourishment.
Girls, both those who live in the home and commuting, are on a rotation to help our housemom make all meals.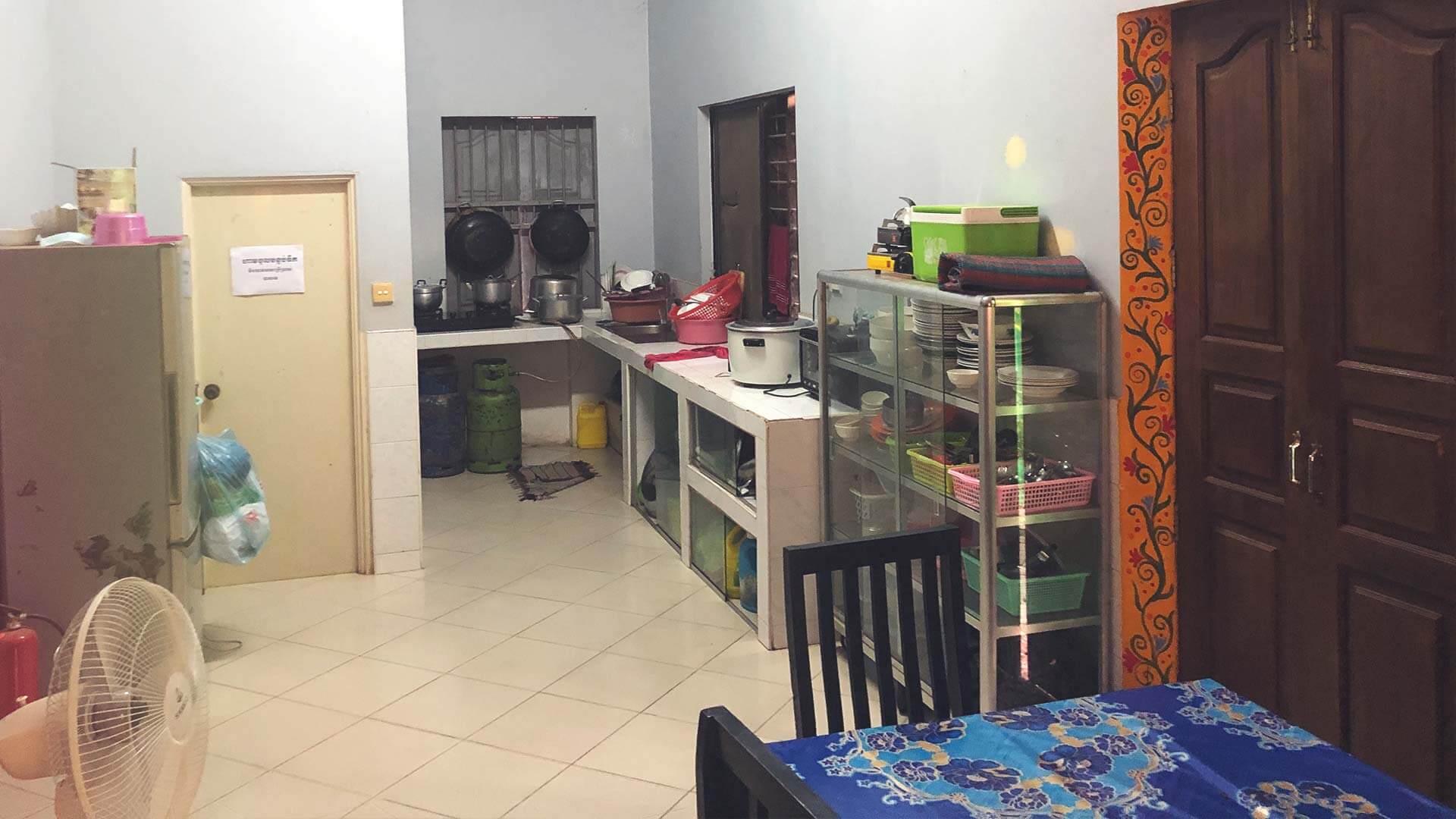 This time is not just practical but also forms a wonderful bond among those in the home. This new home has a larger kitchen than our previous home, allowing people to sit down and have conversation while others prepare the meal.
They lay a blanket on the floor and the girls learn to chop food and combine and grind spices together in a mortar and pestle. They look up and ask, 'Are you going to have lunch with us?' Of course I am!"
Afternoon and evening routines
In the afternoon, girls have meetings with their social worker or counselor, complete homework and practice salon skills. The new home provides meeting rooms, ample space for the salon training supplies, as well as offices for social workers. The girls take responsibility for the salon area, working to keep the new space clean and tidy.
One night a week, a Taekwondo teacher arrives for a two-hour class with the girls. This is a weekly highlight as the girls get to exercise, learn self defense and grow their self-confidence. Shrieks of laughter ring out as they attempt fancy kicks and get to practice their new skills out on each other (safely of course). Three girls recently received their yellow belt!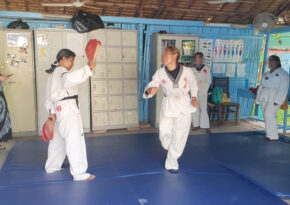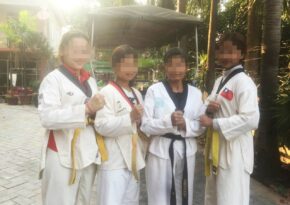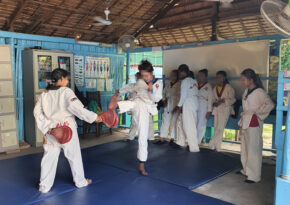 Before dinner, girls in community care commute home while those living in our home head to the kitchen to help assemble the meal. After dinner is finished and dishes washed, the girls enjoy free time for the rest of the evening.
The new home's living space accommodates both survivors and staff better than the old home. Each dorm room is furnished with bunk beds and has a private bathroom. Nightly devotions with the home's housemom is a special routine for girls in the home.
Rhythm of the home
This past year has been one of constant adaptation. Our staff has shown strength and resilience as lockdowns change routines for a few weeks before updated guidelines change them again. During times when travel or group-gatherings are restricted, community-care caseworkers lean on virtual communications to contact survivors and their families and make sure they are well.
The rhythm of everyday life in our home looks slightly different from day to day but the overarching goal and atmosphere remain constant. The goal is continued freedom and the atmosphere is governed by God's love.
Give Rescue
Your gift means freedom
Join an army of freedom fighters standing up against the injustice of child exploitation.
Investing with Integrity
Over the last three years, 80.4% of every dollar we spent was used for programs that benefit the children we defend.
Destiny Rescue is recognized by Guidestar, Charity Navigator and the Better Business Bureau for our commitment to transparency, accountability and financial integrity.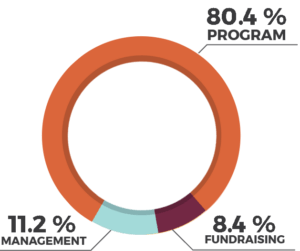 We are grateful for your generosity and promise to use your donation in the most effective way possible. All donations designated for specific funds will be applied to those projects and to administering the gifts. At least 80 percent of your designated gift will go to programs that defend kids. Gifts that cannot be used for a particular project, due to over or under-funding, will be directed to Destiny Rescue's most urgent needs. Contributions are solicited with the understanding that Destiny Rescue has control over the use of all donated funds.