Progress five months after rescue
---
Our undercover rescue team conducted an operation to bring down a child trafficking ring in Manila, Philippines—rescuing 11 children. We hope this 15-minute documentary will inspire you as you learn about the progress and recovery of these brave survivors, as well as their personal reflections and restored hope for a better future.
*due to mature subject matter, this film may not be suitable for children under the age of 16*
.
139
RAID
RESCUES
IN 2020
An increase in raids
---
Trafficking is a lucrative and dangerous industry in the Philippines, taking on aspects of organized crime. 
Our team of highly-trained agents work directly with anti-trafficking law enforcement to rescue children being exploited and to arrest perpetrators. Our agents often gather intelligence regarding the exploitation of children and then bring it to the police where the case then becomes a collaborative effort. 
In quarter two of 2021 (April-June), our team conducted twice as many raids as the previous quarter. In nine raid operations, 84 individuals were rescued with 23 being children and three being male. 
Even with COVID-19 limitations, 139 individuals were rescued through raid operations in 2020. None of this would be possible without our partnership with people like you. 
I needed to be rescued so that abuse could not continue in my life. I am really happy here because a lot of people are now taking good care of me."
Your giving plays a vital role in ending child sex trafficking in the Philippines
---
By making a tax-deductible donation, you enable the continuation of rescuing kids in countries like the Philippines. Funding dictates how often rescues can occur. Every dollar given brings us one step closer to rescuing the next child. We all have a role to play.

---
Donate with confidence
Over the last three years, 80.4% of every dollar we spent was used for programs that benefit the children we defend.
Destiny Rescue is recognized by Guidestar, Charity Navigator and the Better Business Bureau for our commitment to transparency, accountability and financial integrity.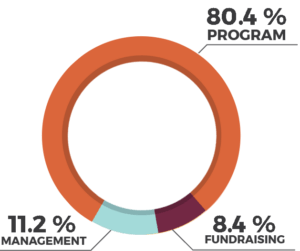 We are grateful for your generosity and promise to use your donation in the most effective way possible. All donations designated for specific funds will be applied to those projects and to administering the gifts. At least 80 percent of your designated gift will go to programs that defend kids. Gifts that cannot be used for a particular project, due to over or under-funding, will be directed to Destiny Rescue's most urgent needs. Contributions are solicited with the understanding that Destiny Rescue has control over the use of all donated funds.
Discover more stories of raids across the globe
---
Raid operations are taking place all over the world to rescue as many exploited children as possible. Check out recent blogs narrating real-life raids, rescue, and recovery.