Using Influence for Justice
Destiny Rescue ambassadors use their influence and platforms to help rescue children trapped in sexual slavery across the world, and inspire their followers to do the same. We are grateful for their talents and abilities to bring freedom, hope and transformation to these precious kids.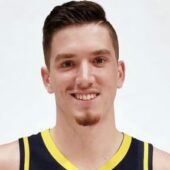 T.J. LEAF
Professional Basketball Player
T.J. Leaf, 23, is a professional basketball player who plays for Indiana Pacers in the US. He was born in Tel Aviv, Israel and raised in Southern California by his parents, Brad and Karen Leaf. He grew up in a loving, close-knit and faith-based environment with his four siblings. He played college basketball at UCLA before entering the NBA Draft in 2017, where he was drafted 18th overall. In addition to his work on the basketball court, T.J. has demonstrated a heart for giving back to those in need. He has served both in his church communities in California and Indiana and currently serves as a mentor to several teens from Big Brothers Big Sisters of Central Indiana.
T.J. vividly recalls his first introduction to Destiny Rescue at a school assembly during high school. Moved by the work that Destiny Rescue does across the world, T.J. decided to act by leading a fundraiser to help support the organization's mission. Now as a professional athlete with an even greater platform to effect change in the world around him. T.J. is excited to use his influence to help create awareness about a very serious cause – ending child sex trafficking and exploitation.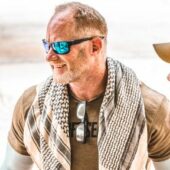 TIM BURKE
Creator and Co-founder of The Tactical Games
Tim spent about 24 years in the US Army. Starting off in the 82nd Airborne Division, Tim quickly made the transition to Special Forces. After serving a number of years in the 7th Special Forces Group [SFG], Tim spent time as an instructor at the USA JFK SWCS teaching Green Berets. Tim then spent just under two years in one of our military's Special Mission Units, only to return again to 7th SFG where he served for the remainder of his career. Tim saw combat operations in Haiti, Colombia, and Iraq.
In addition to Tim's decorated military career, he was an undercover rescue agent at Destiny Rescue for two years, where he helped rescue 32 victims, mostly children, out of sexual slavery and put nine traffickers behind bars.
In 2018, Tim appeared on ABC's reality TV series called Castaways, which follows real people who have been dropped off on small remote islands in Indonesian. The goal is to survive.
"I believe God prepares us all to do something. I was trained and involved in military units with a hostage rescue mission. I built a rescue and justice oriented mindset through all those years of training. When I learned that the most vulnerable demographic on earth (young girls) was the most exploited, I couldn't sit by and do nothing. I joined Destiny Rescue to save as many as possible for as long as I could. I joined Destiny Rescue to make a difference. No off season!" – Tim Burke.
Should you be on this list?
Do you know someone who should be?
---
Check out our ambassador program page to learn more about what it means to be a Destiny Rescue ambassador or share the page with a friend who has a platform and a heart to rescue kids.